Olathe Karate Academy
Proudly Celebrating 20 Years
of Serving the Community!
1999-2019
Serving the community since the late 90's, olathe karate academy has become the premier martial school in the area. offering a great facility with high quality instruction, OKA continues a great legacy of okinawan kenpo karate, hawaiian kenpo jujitsu & okinawan weapons.
Congratulations on 20 years and counting!
Olathe Karate Academy
A traditional school of Okinawan descent, we believe that the Martial Arts can be a great activity for the entire family. Not only do we teach solid, fundamental self-defense, but our academy focuses on core values and principles needed to succeed in every aspect of life!
Kyoshi James R. Palmer (7th Degree Black Belt) and his wife, Renshi Ashleigh Palmer (5th Degree Black Belt), lead the Olathe Karate Academy's team of certified instructors. "It is our goal to help each and every one of our students reach their highest potential. We strive to teach and train in a way that truly matters!"
Phone
Email
Location
1461 E. 151st Street
Olathe, KS 66062
Links
"I have found the Olathe Karate Academy to be a fun and family friendly environment where I can learn martial art skills along side of my children. When at the Olathe Karate Academy, I feel at home and like I am a part of a large family. My children and I always have fun there and enjoy many benefits at a GREAT value!"
-Nate McGuire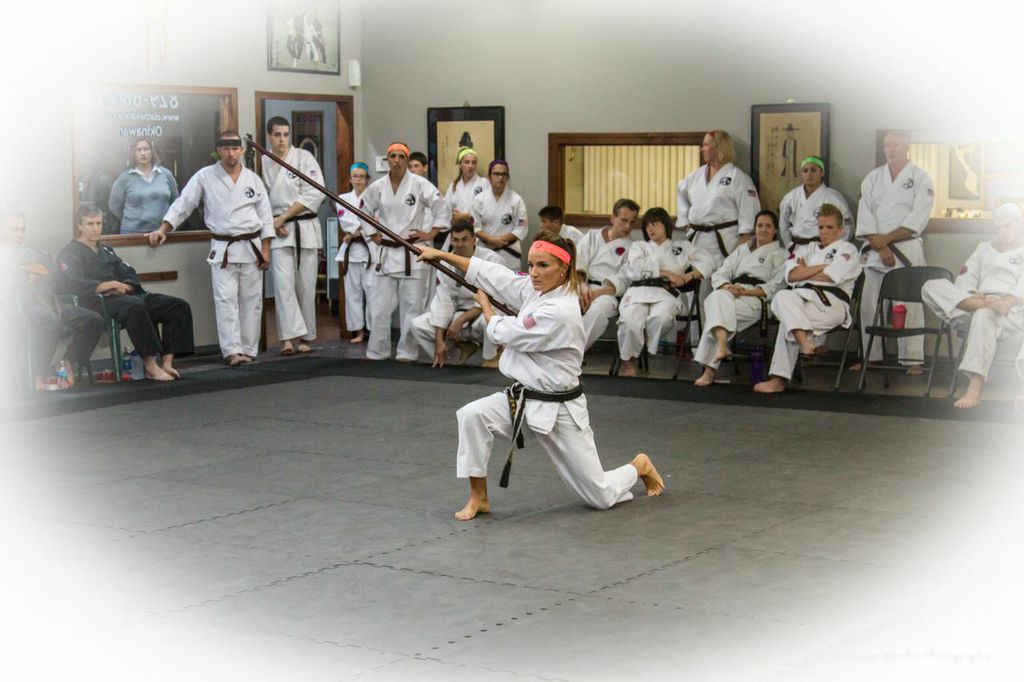 Check out the many styles and techniques Olathe Karate Academy can teach you!
Click for more information
Let us know about you and what programs you are interested in and we'll be in touch ASAP!
2 Week Introductory Session!
Includes FREE uniform!
(New students only Cannot combine with any other offers. Must be purchased by 11/15/19
Katie George
We LOVE Olathe Karate Academy. We checked out several other martial arts options in the area, and Olathe Karate Academy is by far the best. They are very friendly and really take care of my kids. My kids have learned so much about confidence, self-discipline, and dedication. We also love the family friendly activities that they offer as well. They have so many options. It makes it easy to fit into our busy schedule.
Mike Smith
With over 15yrs of martial arts experience I was worried about finding the perfect place to continue my training and introduce martial arts to my kids after we moved to Johnson County. OKA's amazing family atmosphere and knowledgeable instruction removed all my fear. Wether you have years of experience or just starting, make OKA your home. Come join the family - you won't regret it.
Kevin Conner
I

can't say enough about Olathe Karate Academy. Kyoshi Palmer and Sensei Ashleigh are terrific instructors and I have learned a lot from them. They make it fun learning the Martial Arts. OKA has a family atmosphere (for the young to the old), you really feel that you're part of the family. OKA has become part of my "way of life".
Jenn Deeg
After some persuasion from my sister, I decided to tag along one night to her kickboxing class at OKA. It only took one class, to see that this was the right fit for me. I love attending the Power-Fit Kickboxing classes 4 nights a week. The instructors Ashleigh and Jamie really make you feel more than welcome. You're not only a student taking a class, you are family at OKA. The fun, exciting, and determined atmosphere at OKA really makes this place for me; "A Home Away From Home."
Katlyn Bullard
I have attended Olathe Karate Academy for 2 years. I am a 15 year old girl who has ADHD and I have learned self discipline, and self-defense. Being a teenager I know that I will feel safe using the techniques I have learned at OKA. Kyoshi Palmer and Sensei Ashley work with all types of children, and adults. I have done better in school as I have learned how to focus and follow directions better since joining Olathe Karate Academy. You really get a family atmosphere and there is even a play area for the smaller children who may watch mom or dad as they do Karate. I would never attend anywhere else... This is the place to go to learn Karate, motivation and self discipline. We love you OKA and thank you for all your dedication to martial arts and teaching me and others just like me.
Jeff VonFeldt
The Academy has been great for my daughter, Haley. Kyoshi Palmer and Sensei Ashleigh have done a terrific job teaching her many different aspects of karate and physical fitness. I also enjoy going to the kickboxing classes, which has helped me to get back into shape. Thanks, OKA!
Karen McAbee
I cannot say enough good things about Olathe Karate Academy! Kyoshi Palmer and Sensei Ashleigh have built a wonderful dojo and assembled an amazing group of instructors. I was a bit apprehensive to begin as an adult, but that apprehension was totally unfounded. Within just a few classes, I was totally hooked! Before long, both of my teenage sons started classes as well - I love that this is something we can do together. Its not often that teenage boys show any interest in what Mom is doing, but OKA is definitely a home for all of us. If I had known it was this much fun, I would have started years ago!! Thank you, Kyoshi Palmer and Sensei Ashleigh!!
Sara Ray
Olathe Karate Academy is awesome! I attend the Power-fit kickboxing classes with my mother-in-law and sister-in-law. It is a fun and energetic workout for all ages. Whether you are a beginner or workout guru, the class will get you in shape and make you feel great. It incorporates cardio, abs, kickboxing and much more while listening to music that pumps you up and keeps you motivated. The Palmers really know what they are doing and will help you along they way. Thanks OKA!
April Weber
If you want a karate school that is fun, engaging and committed to teaching awesome and legitimate kenpo karate, this is it! It is awesome for families who want to take together and you cannot beat their family monthly rate! It is fun and it is like a big family. Kyoshi Palmer and Sensei Palmer (husband/wife) plan a lot of fun activities throughout the year for everyone...Halloween Parties, Summer Camps, Cookouts, Royals Outings, etc. If you want to get a GOOD martial arts training, skip the other schools in the area and come to Olathe Karate. It is legitimate and you will get the right training. One you can be proud of. There are alot of karate places out there, but this is one that you can count on. Run, don't walk, to Olathe Karate!
Mike Wonch
I have been training at Olathe Karate Academy for 6 years. For me, this has been a great place for self-defense, discipline, exercise, and stretching me to accomplish more than I thought was possible. Kyoshi Palmer and Sensei Ashleigh truly care about the students; they teach and motivate in such a way as to get the very best out of you. Whether you are young or old, a family or an individual, I would recommend Olathe Karate Academy to anyone looking for a dynamic martial arts school.
Katie Scherer
I have always been interested in taking some form of marital arts. As an adult, I felt that I was too old to attend. I always thought it would be a little intimidating to take classes with children. Through a mutual friend of Sensei Ashleigh, I was able to overcome my fear and come to Olathe Karate Academy. Not only were Sensei Ashleigh and Kyoshi Palmer more than welcoming, they also offered classes designated for teenagers and adults. This allows me to adapt on a comfortable level and learn self-defense on someone more my size. Special thanks to OKA!
Nate McGuire
I have found the Olathe Karate Academy to be a fun and family friendly environment where I can learn martial art skills along side of my children. When at the Olathe Karate Academy, I feel at home and like I am a part of a large family. My children and I always have fun there and enjoy many benefits at a GREAT value!
Deanna Consani
Olathe Karate Academy is a fantastic family oriented facility. They have made both my kids feel welcome and special. Even through group classes, my kids receive individual attention as needed. The students all have fun as Kyoshi Palmer and Sensei Palmer treat everyone like family. My husband enjoys the power-fit kick boxing classes too. The monthly family rate is extremely reasonable for all the classes offered. Look no further the OKA for your family's martial arts needs.
Jeanine McClelland
When I watched my son earn his yellow belt, I was amazed at his participation, attention to the skills, and his overall excitement. He loves this program and I love seeing how proud he is to earn rank and respect. Not only does my son work on skills of respect, he in turn, receives respect from his teachers. He often practices moves at home. No other sport has brought my son to a place within himself, where he chooses to practice. It is often when he is showing me new moves. He is very proud and more confident than I have ever seen. While I know some of this is the joy he gets from Karate, it takes a special team to make a child with special needs, feel that he is strong, capable, and courageous.
Lisa Smith
Kyoshi Palmer and Sensei Palmer are a husband/wife team who, with the help of their other FABULOUS team members create a fun, positive, family oriented atmosphere. All of the instructors are great with children and teach focus, respect, confidence, and discipline.





I originally signed my children up to do karate and figured I would give kickboxing a try. My husband decided to give both a try as well. Husband then kinda talked me into trying karate...... and I REALLY love it! I love beating the bags in kickboxing. It is a wonderful way to reduce stress. With me doing karate, I've learned better techniques to hit and kick the bags in kickboxing. I will also say that doing regular kickboxing classes along with some healthy eating has helped me drop 15-20 lbs! :) I'm very happy being a part of OKA!
Jon & Ginny Swinney
Our son has been attending class at Olathe Karate Academy for the last several years. Initially, it was something our physician had suggested to improve his flexibility. He was a prime candidate for back injuries and wasn't likely to do any stretching at home on his own. Within just a few weeks, we saw marked improvement in his flexibility and he remains injury free to this day. But, the best part of this experience has been that our son discovered a passion that none of us would've ever known existed if it hadn't been for OKA. Kyoshi Jamie Palmer has been instrumental in teaching our son the discipline and skill of Okinawan Kenpo Karate. The added benefit is that Kyoshi Palmer is an outstanding role model for his students. He along with his wife Sensei Ashleigh provide a fun and safe environment for our son to practice his discipline, and are always coming up with fun and innovative ways to keep their students moving forward with focus. We look forward to many more years of great instruction with Olathe Karate Academy!